You want your customers to love you.
It's why you obsess over things like product quality and customer service, and constantly look for ways to make your brand experience better. But what about customer appreciation? Should it get the same amount of attention and how often does your brand show it?
The truth is customers will love you when you love them. In other words, when your customers feel appreciated and valued by your brand, they'll give you the love right back.
So how do you show customer appreciation?
In this post, we'll cover everything you need to know and show you how to make customers feel appreciated in an authentic and meaningful way.
If you're short on time, use the links below to find exactly what you're looking for.
Why Is Customer Appreciation Important?
Have you ever met someone who didn't want to feel appreciated or valued? I certainly haven't.
Today, customers have more options than ever before in who they do business with. Instead of having a couple of brands to choose from, they have hundreds of options if not more. This expansion in the marketplace makes customer appreciation more important than ever.
Customer appreciation or a lack thereof can have major long-term effects on your brand. It goes beyond a single moment in time when you appreciated your customers (or chose not to) and continues to impact important business objectives like customer loyalty.
Every brand needs loyal customers. These are the people who support your business more than anyone else. Research shows that 60% of loyal customers will purchase more frequently from the brands they're loyal to. So the question is how can we get more of these people?
The answer is customer appreciation. It shows customers you genuinely care and gives them a strong emotional connection to your brand. In fact, this study shows that customers who have an emotional connection to your brand have a lifetime value four times greater than your average customer.
Loyal customers are also your brand advocates. These are the customers who willingly and enthusiastically promote your brand, while recommending you to family and friends. They're extensions of your brand in the marketplace that people trust and according to HubSpot, recommendations from family and friends are trusted 81% more than those from companies.
Customer appreciation helps you build a strong emotional connection with your customers leading to their loyalty and advocacy. This connection should be based on shared values and how you make them feel as customers. Do they feel valued, heard, and noticed? That's what customer appreciation is all about. Take a look at the customer appreciation ideas and examples below to help formulate your strategy for thanking customers.
Find Inspiration From These Customer Appreciation Ideas
Have you ever witnessed or experienced a stellar example of customer appreciation?
Outstanding examples of customer appreciation happen every day. Here's a few inspiring examples we can all learn from.
1. Starbucks Customer Appreciation Example
These Starbucks employees were all smiles on graduation day. Earning their college degree was a major accomplishment and celebrating with them was Starbucks – the brand that covered their tuition 100% through the Starbucks College Achievement Plan.
But Starbucks didn't take all the credit, they knew none of this would have been possible without their customers. In a post on Instagram, Starbucks congratulated their employees and made it very clear that it was their customers who made it possible.
2. Sunbum Customer Appreciation Example
Showing customer appreciation is all about making your customers feel heard and that's exactly what Sunbum did when they surprised their customers with free stickers of their mascot, Sunny.
When customers saw these stickers floating around social media, they kept asking how they could get their hands on them. That's when Sunbum decided to use it as an opportunity to surprise and delight their customers in a fun, appreciative way.
In a post on Instagram, Sunbum announced that they would be including a free sticker pack of their mascot in every online order. They used something as simple as free stickers to show customer appreciation and it worked.
3. Chewy Customer Appreciation Example
For #GivingTuesday, Chewy asked their Facebook community to tell them about a pet shelter or rescue that they loved and wanted to personally thank.
Chewy was so moved by all of the comments that they decided to turn them into handwritten thank you cards, which were then sent to the shelters and rescues mentioned. Chewy even loaded up donation boxes as a sign of their customer's support for helping pets in need. You can watch the video in their post on Instagram.
What started out as simple conversation on social media ended up showing customers how much Chewy really understood them and valued what they cared about.
Customer Appreciation Day
While you certainly don't need an elaborate marketing campaign to show customer appreciation, there should be times that you go all out for your customers. What better day to plan something big than National Customer Appreciation Day?
National Customer Appreciation Day is a social media holiday that takes place every year on April 18 and many brands use it as a day to do something extra special for their customers. Whether your brand celebrates on this day too is totally up to you.
You have complete freedom to choose your own date (or week) to celebrate customer appreciation. The most important thing is to think about what works best for your customers and to save a date on the calendar so that this important event doesn't get overlooked.
When planning your customer appreciation day, you'll want to make sure your customers are aware that you're planning a special day for them. Spread the news about your plans, advertise it on your social accounts, website, and anywhere else your customers are.
Making them a part of this process builds their excitement and cuts back on chances of them missing the big day when it arrives. It also shows your customers all of the thought and consideration you put into it, which leaves them feeling genuinely appreciated.
Now that we've got you thinking about your next (or maybe even first) customer appreciation day, get inspired with some creative and authentic ways to show your customers some love.
Customer Appreciation Ideas
In the below section we have included a few of our favorite customer appreciation ideas to help guide you through the process of thanking your customers for their loyalty.
1. Send personalized gifts.
Have you ever received a "just because" gift? I'm sure it made you feel pretty special and most likely appreciated too. Maybe it was from a friend or family member, or a brand that wanted to show how much you meant to their company.
Customer appreciation gifts are a solid way to show customers how you feel about them. If you know your customer fairly well, think about what they would enjoy. Have they ever mentioned any of their hobbies or interests outside of the office? If so, this is a great opportunity to show them you were listening.
Trying to find multiple gifts for multiple customers can make gifting very time consuming. If you find yourself pressed for time, partnering with an agency would be a great solution (agencies like Centricity specialize in sourcing gifts and know how to get the most for your budget).
2. Launch a customer loyalty program.
All of your customers should be appreciated, especially those who consistently do business with you. Having a loyalty program is a great way to show customers you care and should motivate them to continue their support. Research shows that 52% of loyal customers will join a loyalty program if given the opportunity.
Whether it's getting something for free, earning $20 off their next purchase, or achieving the next membership level in your rewards program, loyalty programs should encourage customers to keep engaging with your brand by offering rewards and incentives. Just be sure to not make things purely transactional.
Make your loyalty program personal by giving your loyal customers more than just discounts and freebies. Have a special announcement? Tell them first. Need feedback on something? Ask them first. Launching an exciting new product? Make it available to them first. And always, always, always communicate why you're doing it.
3. Give away company swag.
Everybody loves swag. You, your mom, your uncle, your neighbor down the street. Whether it's free shirts, hoodies, hats, bottles, backpacks, or enamel pins, there's a reason why brands are constantly giving it away on social media and at events. It's because they work!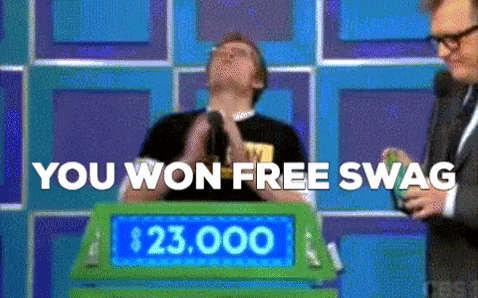 Company swag is a proven way to get customers excited about your brand. As they proudly use and wear your merchandise, they will feel a deeper sense of connection with your brand which will lead to loyalty and brand advocacy.
You've got a ton of options when it comes to choosing swag for your brand. We curated a list of the best options you should consider at the bottom of this post.
4. Talk about your customers on social media.
Social media is one of the best ways to engage with your customers. It's also one of the easiest ways to show some love and appreciation all year long.
In your posts, you should thank your customers for their support. Talk about what they mean to your brand. Recognize what they have helped you accomplish. Shine spotlights on customers who inspire you. Celebrate your customer's personal success stories. Feature customers who went to great lengths to show loyalty to your brand.
Do all of this and do it often. Your social accounts should be a place where you talk about your customers. Recognizing them in such a public way only amplifies the amount of appreciation they will feel from your brand.
5. Donate to charities they care about.
Giving away free stuff is great, but acts of generosity can sometimes speak much louder. That's why donating to a charity your customers care about is an incredibly powerful way to show appreciation. You're supporting them in a way that goes beyond your products.
You're showing your generosity and demonstrating that you care about what they care about. You're also showing them your brand aligns with their values and that your committed to making the world a better place together. When customers feel this level of support, everyone wins.
6. Write handwritten cards.
Just imagine how your customers will feel when they receive your handwritten card. Like you, they probably can't remember the last time they received one, which means this action will make an even greater impact and impression on them.
When writing thank you cards, make it personal. Use their name and if possible, include something specific to them in your note. They should feel like the note was written specifically for them. You should also avoid talking about any of your products. This is a time to show your gratitude and ask for nothing in return.
7. Look for opportunities to celebrate them.
Every day, there are opportunities to celebrate your customers. That could mean sharing an inspiring story on how one of them overcame a hardship or accomplished something remarkable in their community. It could also be as simple as doing a "customer of the week" on social media.
When one of your customers is celebrated, all of them feel it too, which means you could also do something extra special for one random customer. It could be completely over the top like paying off their medical bills or something fun like tickets to a sold-out sporting event.
You could even follow the customer appreciation example from Honda when they celebrated one customer by giving their entire family an awesome experience at the Honda Indy.
8. Offer unexpected upgrades and discounts.
Looking for a guaranteed way to surprise and delight your customers? Offer them unexpected upgrades and discounts.
If you have a subscription-based business, give your customers an upgrade to a more premium plan. Even if it's only temporary, customers will enjoy getting to try out your newest features.
Don't offer subscriptions? Some other classic examples are upgraded rooms at hotels and premium seats/ travel accommodations. If you offer a loyalty program, you could also give upgrades to higher membership levels before the typical requirements are met.
Another great way to show appreciation is by giving customers an awesome discount or special. That's what Shake Shack did when they wanted to celebrate all of the support their Shack fans had shown them in 2019. In a post on Instagram, Shake Shack expressed their thankfulness and offered the special code: THANKYOU19.
Customer Appreciation Gift Ideas
Brand Merchandise & Swag
Stickers
Enamel Pins
Water Bottles
Coffee Tumblers
Mugs
Coasters
Reusable Straws
Travel Cutlery Set
Portable Bowls
Notebooks
Pens or Pencils
Hats
T-Shirts
Socks
PopSockets
Laptop Sleeves
Totes
Duffels
Lunch Bags
Backpacks
Pillows
Blue Light Glasses
Passport Cases
Luggage Tags
Umbrellas
Card Wallets
Pet Bandanas
Pennant Flags
Mini Kits (travel, tech, etc.)
Candles
Beach Towels
Pool Floats
Koozies
Food and Beverage Gifts
Gourmet Popcorn
Fruit Basket
Chocolates
Sweet & Salty Treats
Healthy Snacks
Nut mix
Custom Kits
Company Swag Kits
Membership Kits
Summer Kits
Holiday Kits
Festival Kits
Conference Kits
Influencer Kits
Other Gifts
Flowers
Succulents
Wine
Gift Cards
Customer Appreciation Quotes
We hope our customer appreciation ideas have helped you feel inspired. If you are looking for further inspiration then the customer appreciation quotes below are perfect for you!
"Do what you do so well that they will want to see it again and bring their friends."

–– Walt Disney (The Walt Disney Company)
"Make the customer the hero of your story."

–– Ann Handley
"Nearly every moment of every day we have the opportunity to give something to someone else – our time, our love, our resources. I have always found more joy in giving when I not expect anything in return."

–– S. Truett Cathy (Chick-fil-A)
"How you sell matters. What your process is matters. But how your customers feel when they engage with you matters more."

–– Tiffani Bova (Salesforce)
"Appreciation is a wonderful thing. It makes what is excellent in others belong to us as well."

–– Voltaire (Philosopher)
"Instead of focusing on the competition, focus on the customer."

–– Scott Cook (QuickBooks)
Every company's greatest assets are its customers, because without customers there is no company."

–– Michael LeBoeuf
"The more advocates you have, the fewer ads you have to buy."

–– Dharmesh Shah (HubSpot)
"One of the greatest gifts you can give to anyone is the gift of attention."

–– Jim Rohn
"I've learned that people will forget what you said, people will forget what you did, but people will never forget how you made them feel."

–– Maya Angelou
Sarah Jordan
Let's Build Your Brand's

Experience
When we work together, the possibilities are endless